Kunsthaus Kende – Antique Silver and Design in Silver
True to the principle "Art is the most beautiful form of investment", we have specialized in high-quality work in silver and sterling silver since 2001. This includes antique silver of all styles and eras, as well as classic, upscale utility silver. In our portfolio, for example, you will find silver goods such as the Pyramid cutlery by Georg Jensen or its successful decors Magnolia / Blossom, Acorn / Konge, Acanthus / Dronning, Bernadotte, Parallel, Cactus but also – of which few people know about its existence – modern silver work more outstanding, contemporary artist.
Sales Highlights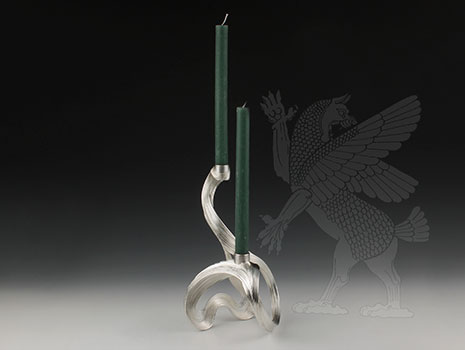 Our Portfolio
While our initial preference was exclusively silver antiques, over the years we have expanded our portfolio to include modern art in silver. We are in the privileged position of being able to offer silver cutlery and other outstanding works by international, young artists exclusively in Germany and continental Europe, whose modern art completely redefines the previous perception of silver and silverware in general.
In their choice of materials, these young artists use silver with a fine content of at least sterling silver (925 silver), but mostly Britannia silver (958 silver) or fine silver (999 silver). In doing so, they create works of art with an extraordinarily broad, individual and extremely extravagant design language.
Modern silver work is not limited to modern silver cutlery, but also includes objects such as modern table silver, silver service, modern silver vases, modern silver bowls, modern silver trays, modern silver candlesticks etc.
In the case of antique silverware, too, our focus is not only on high manufacturing quality, but also on the historical condition and the particularity of the artistic design. Since there have been examples of this in all epochs, we have the George I sugar bowl next to the George III teapot on a stand. The tea caddy from the late 18th century alongside high-quality Art Nouveau silver by Henry van de Velde, the pyramid silver cutlery from the precious silversmith Georg Jensen and cutlery from Evald Nielsen alongside the brilliant legacies of the great silversmiths of the Bauhaus era, Emmy Roth, Paula Straus and Christa Ehrlich.
As an art dealer specializing in silver objects, we are a member of the KD (Art Dealers Association Germany) and the international art trade association CINOA and have committed to their code of honor.
We are always interested in buying high-quality silver antiques, silver cutlery and art objects in silver and look forward to your offer, which we of course treat with discretion. Please refer to the category »Our Services for more details.
KUNSTHAUS KENDE
Christopher Kende, Kunst und Antiquitäten
Bei der Fruchtschranne 10
72070 Tübingen
Deutschland
Phone: 0049-(0)163 / 2 67 97 46
E-mail: info@kunsthaus-kende.de