58282
Six sterling silver tea spoons in "Pyramid" pattern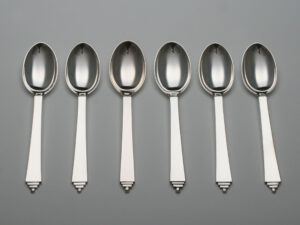 A rare set of six extra large sterling silver tea spoons in "Pyramid" pattern
Copenhagen post 1945 by Georg Jensen
A set of six rare Georg Jensen silver extra large teaspoons in Pyramid pattern, designed by Harald Nielsen, 1926. Executed by Georg Jensen silversmithy post 1945. The spoons are in exceptional presentation condition and show no personal inscription or monogram.
An overview of our other cutlery pieces in "Pyramid" pattern can be found here.
The "Pyramid" pattern cutlery has become one of the classics among the silver cutlery of the Art Déco and still looks extraordinarily modern today due to its simplicity. "Pyramid" is one of Georg Jensen's most sought-after pieces of cutlery and is still produced today in sterling silver – but no longer in the old Copenhagen manufacturing quality as it is here. Furthermore the "Pyramid" pattern cutlery is now also produced in stainless steel.
14.2 cm / 5.59″ length
---