An outstanding 900 grade silver teaset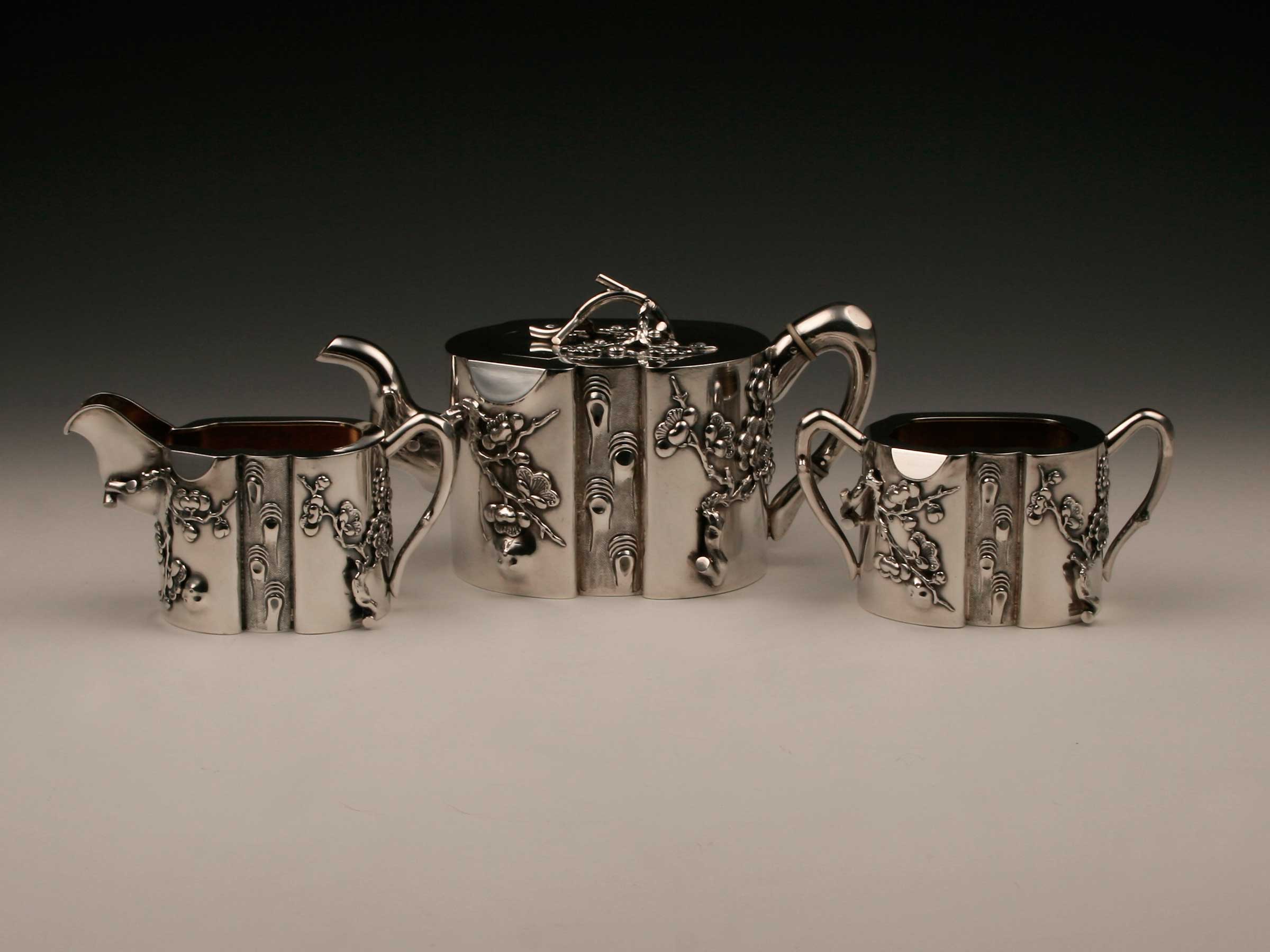 An exceptional 900 grade silver tea service
Canton (Guangzhou) circa 1900 by De Xing Lou
Oval, asymmetrical basic shape. The bodies decorated with partially emerging leaves and branches in the form of cherry twigs. The handles are worked in the form of abstracted branches, which are connected to the body of the teapot by heat stoppers of bone.
The bodies, constricted on the long side to the left, showing a narrow strip of bark. The detachable lid of the teapot with the corresponding lid knob worked in the shape of a branch.
Very subtly worked tea service in exceptional good condition. The service impressively illustrates the high artistic and technical ability of Chinese silversmiths: the branches emerging between the spouts and the body of the tea and milk jug, the elaborately soldered branches, the central accentuating strip of bark as well as the slanted support surface of the thumb on the handles impressively illustrate the high artistic standard of this work.
The service was most certainly originally produced for English export, but was acquired by the ancestors of the last owners in China in 1913. For this reason, on the underside of all pieces there is only the manufacturer's mark of the exporting silversmith, which at the same time represents the guarantee for compliance with the officially prescribed fineness of 900/1000. For export an additional hallmark "90" or "900" would have been obligatory.
The workshop of De Xing Lou is traceable for the period from about 1850 to 1900 in Canton (today Guangzhou).
Tea pot:
21.9 cm / 8.62″ length, 9.5 cm / 3.74″ width, 9.0 cm / 3.54″ tall;
641.2 g / 22.61 oz; 850 ml capacity
Milk jug:
14.6 cm / 5.74″ length, 6.6 cm / 2.59″ width, 6.8 cm / 2.67″ tall (to the rim); 255.3 g /  9.0 oz
Sugar bowl:
14.6 cm / 5.74″ length, 6.6 cm / 2.59″ width, 6.8 cm / 2.67″ tall (to the rim); 282.8 g / 9.97 oz
---