800 grade silver fish cutlery, Heilbronn circa 1900 by Bruckmann & Söhne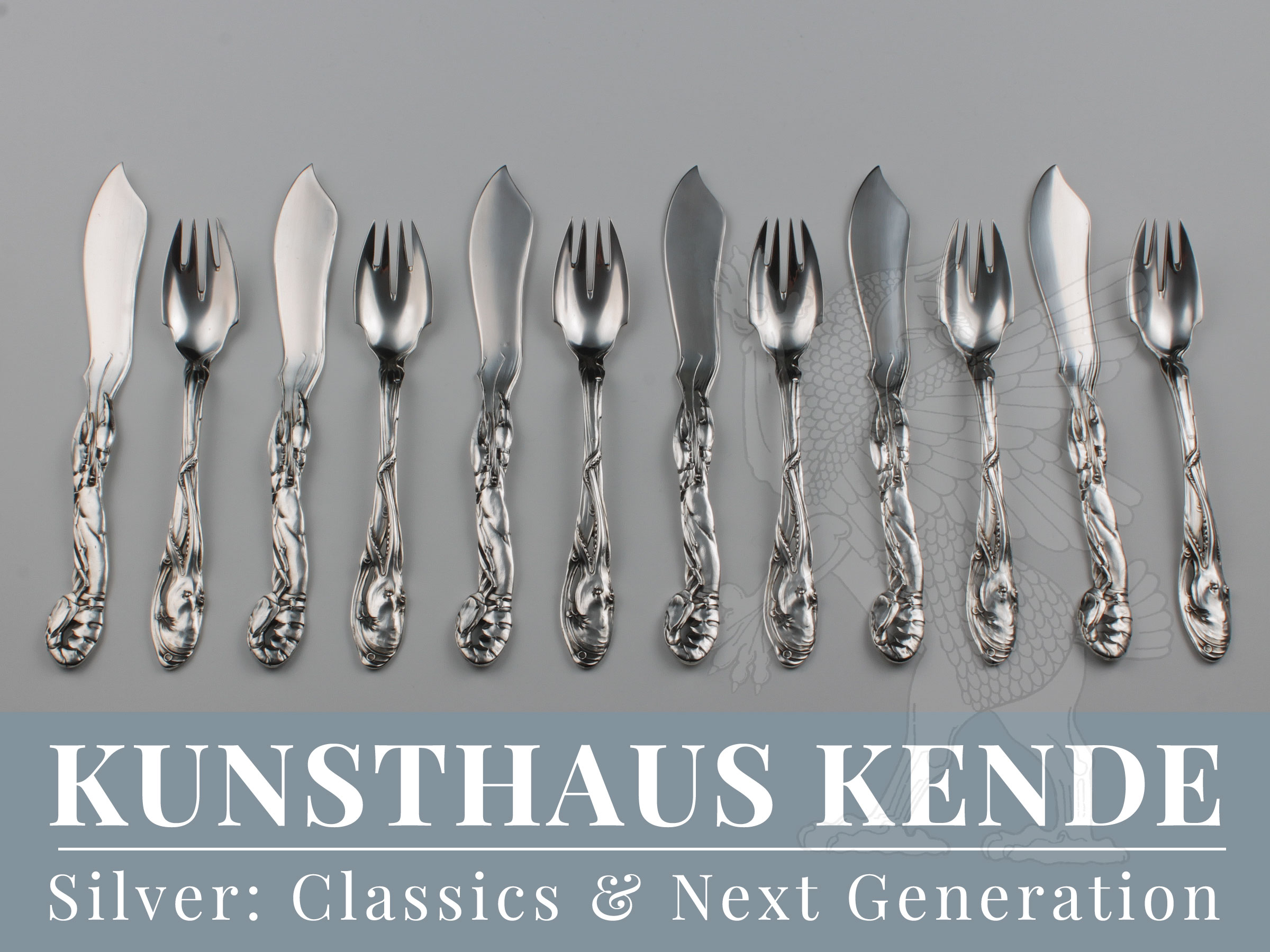 Item number: 59012
An Art Nouveau 800 grade fish cutlery,
Heilbronn circa 1900 by Bruckmann & Söhne
Marine animal decoration on both sides. The fork adorned by a plastic octopus, the knife by a lobster. Excellent original condition. The surface of the sea animals has almost no rubbing in its plasticity and the texture is remarkably well preserved. Stamped with retailer´s mark and French import marks for foreign silver.
The decoration of this outstanding silver fish cutlery belongs to a series of Art Nouveau cutlery executed by Bruckmann & Söhne in the period around 1900, when the Heilbronn silver factory participated with its designs in the World Exhibition in Paris. Probably the most famous design is the #2400 flatware, also known as the "Iris decor" or "Iris World Exhibition". This silver cutlery was designed in the classic floral Art Nouveau style and was clearly related to silverwork of the French Art Nouveau. The Iris cutlery was produced in an extremely elaborate manner and included an enormous number of different cutlery and serving pieces, which in turn were designed differently at the ends of their handles. For the fish cutlery, for example, there are two other decorative variants existing, such as a pattern showing lily and magnolia flowers (see here) or a variant with fish and seaweed. The fish cutlery presented here was probably produced in a very small quantity, as it is the rarest of all decoration variants. As can be seen from the detailed photographs, the cutlery is somewhat more sculpted on its upper side, while the underside is kept flatter. The decoration artistically sophisticated to so high a degree (take note of the slightly twisted octopus whose tentacles flow organically to the front and back over the stem of the fork!) that it is safe to assume that the designer of this cutlery must also have been trained as a sculptor.
length: forks 16.8 cm / 6.61", knives 19.8 cm / 7.79"; 645.1 g / 20.74 oz total weight
Please see here for an overview of our found Art Nouveau silver items.
Here you can find an overview on silver flatware in "Iris" pattern.
---