58003
An Art Déco four piece 800 grade silver coffee and tea service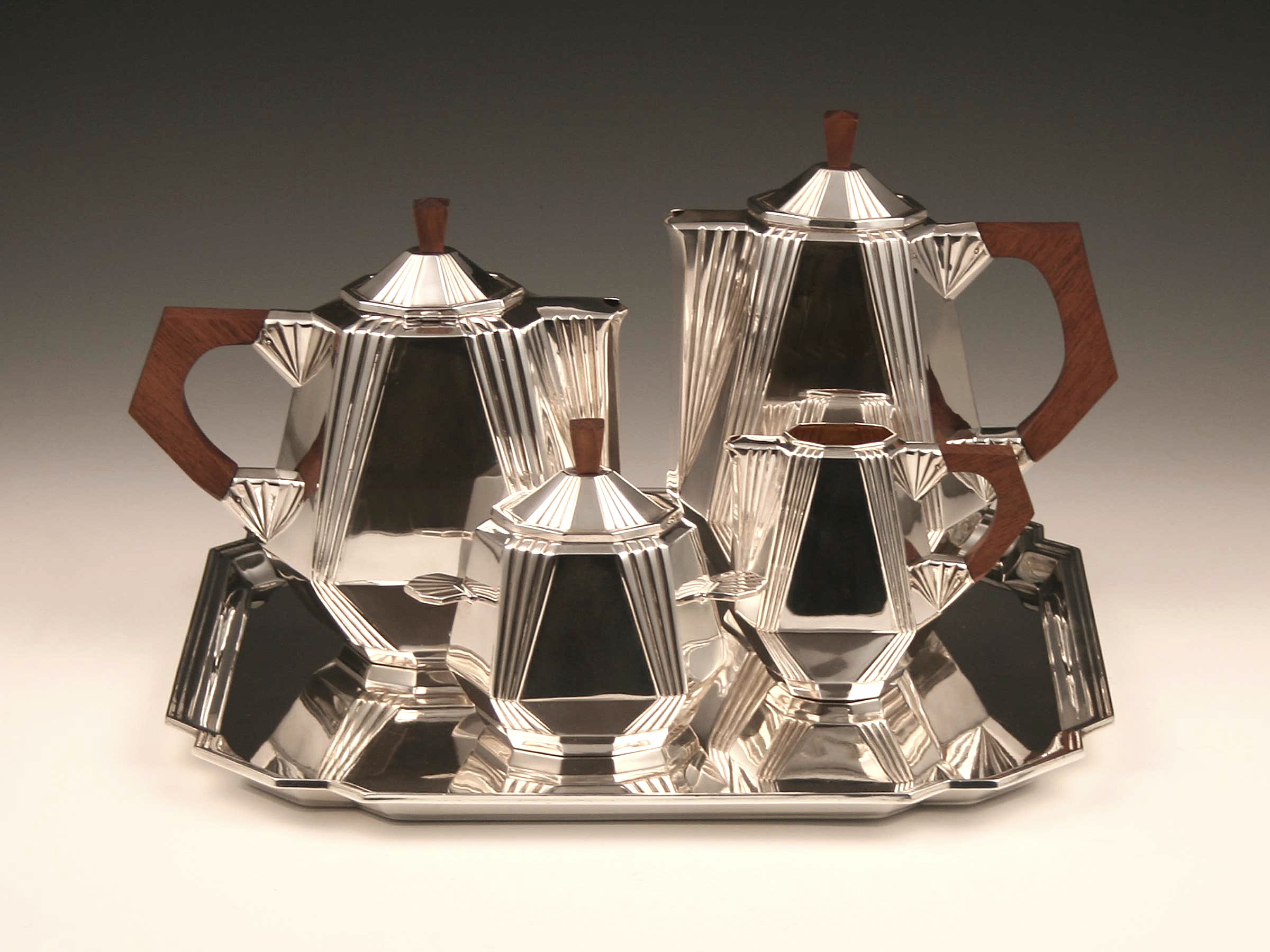 An 800 grade silver Art Déco coffee and tea service
Paris circa 1930 by PD (?)
The oblong shaped hexagonal bodies tapering to their bases and the upper rims. The smooth surfaces subdivided by widened drapery to the edges. The tea- and the coffeepot with hinged lids, the lid of the sugar pot ist detachable. The lids feature trapezoidal knobs. The handles of the tea- and the coffeepot as well of the milk jug have been crafted in rosewood by analogy with the knobs. The linear spouts show silhouetted pouring apertures.
An outstanding Art Déco coffee and tea service of great elegance and unconventional diamond shape. The service is in excellent presentation condition and is ready to use. The utilisation of rosewood for handles and knobs emphasise the manufacturing quality of this wonderful Art Déco coffee and tea service. The maker´s mark illegible (could be read as "PD").
The tray shown in the gallery view and the first image does not form part of the offer and is shown for illustration purposes only. It can be purchased separately.
teapot:
19.8 cm / 7.79″ length, 18.2 cm / 7.16″ tall; 452.3 g / 15.95 oz
coffeepot:
18.1 cm / 7.12″ length, 20.5 cm / 8.07″; 454.6 g / 16.03 oz
milk jug:
12.0 cm / 4.72″ length, 10.1 cm / 3.97″ tall; 168.5 g / 5.94 oz
sugar pot:
13.6 cm / 5.35″ length (between the handles), 12.2 cm / 4.8″ tall; 243.7 g / 8.59 oz
1319.1 g / circa 46.52 oz total weight
---